Luxury home sales in Texas were strong in the first eight months of 2016, according to the latest Texas Luxury Home Sales Report released today by the Texas Association of REALTORS®. The report examines housing market trends and statistics for homes priced $1 million or higher in the Austin, Dallas-Fort Worth, Houston, San Antonio, Corpus Christi, and Midland metropolitan statistical areas (MSAs).
In response to discouraging changes to the Water Resources Development Act (WRDA) that removed vital support for our nation's ports Congressman Ted Poe (TX- 02) and Congressman Gene Green (TX-29) issued the following statements. The House is expected to vote on WRDA next week.
Allegation: The U.S. Department of Labor has sued Martin Marietta Materials Inc. after an investigation by the department's Wage and Hour Division found that the employer violated the Family Medical Leave Act. Investigators from the division's San Antonio District Office found that Martin Marietta wrongfully denied the complainant the right to reinstatement by refusing to restore him to his original position, or by offering an equivalent position within the company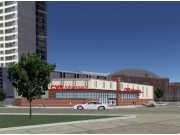 The Boulder Group, a net leased investment brokerage firm, has completed the sale of a single tenant new construction CVS Pharmacy ground lease located at 2501 N. Field Street in Dallas, Texas for $14,890,000. The property sold at a 4.60% cap rate which is the lowest cap rate for a CVS sale in 2016 according to CoStar
San Antonio, TX - (RealEstateRama) -- Congressman Joaquin Castro (TX-20) announced that the Department of Veterans Affairs (VA) renewed $4,040,000.00 of federal funding for...
Texas home sales purchased by international homebuyers added more than $10 billion to the Texas economy from April 2015 and March 2016, according to the Texas International Homebuyers Report released today by the Texas Association of REALTORS
Congressman Joaquin Castro (TX-20) announced a $3,279,208.00 grant from the Department of Energy (DOE) for the Southwest Research Institute (SwRI). The DOE funding will support an SwRI project to make coal-based power generation more efficient, cleaner, and less expensive. SwRI is collaborating on the project – entitled "Pre-Project Planning for a Flameless Pressurized Oxy-combustion Pilot Plant" – with ITEA S.p.A., Jacobs, the Electric Power Research Institute, General Electric Global Research, and Peter Reineck Associates
AUSTIN, TEXAS - Austin Mayor Steve Adler was joined by U.S. Representative Lloyd Doggett and U.S. Housing and Urban Development Secretary Julián Castro Friday...
The Texas Parks and Wildlife Commission today adopted new regulations for the statewide oyster fishery that reduce commercial possession limits and establish additional harvest restrictions. The new rules affect both the recreational and commercial harvest of oysters.