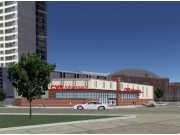 The Boulder Group, a net leased investment brokerage firm, has completed the sale of a single tenant new construction CVS Pharmacy ground lease located at 2501 N. Field Street in Dallas, Texas for $14,890,000. The property sold at a 4.60% cap rate which is the lowest cap rate for a CVS sale in 2016 according to CoStar
The Texas Association of REALTORS® announced its full support of the lawsuit filed today in Carson County, Texas, that seeks to stop White Deer Independent School District from unlawfully collecting property taxes from property owners in the district
San Antonio, TX - (RealEstateRama) -- Congressman Joaquin Castro (TX-20) announced that the Department of Veterans Affairs (VA) renewed $4,040,000.00 of federal funding for...
Texas home sales purchased by international homebuyers added more than $10 billion to the Texas economy from April 2015 and March 2016, according to the Texas International Homebuyers Report released today by the Texas Association of REALTORS
Congressman Joaquin Castro (TX-20) announced a $3,279,208.00 grant from the Department of Energy (DOE) for the Southwest Research Institute (SwRI). The DOE funding will support an SwRI project to make coal-based power generation more efficient, cleaner, and less expensive. SwRI is collaborating on the project – entitled "Pre-Project Planning for a Flameless Pressurized Oxy-combustion Pilot Plant" – with ITEA S.p.A., Jacobs, the Electric Power Research Institute, General Electric Global Research, and Peter Reineck Associates
AUSTIN, TEXAS - Austin Mayor Steve Adler was joined by U.S. Representative Lloyd Doggett and U.S. Housing and Urban Development Secretary Julián Castro Friday...
The Texas Parks and Wildlife Commission today adopted new regulations for the statewide oyster fishery that reduce commercial possession limits and establish additional harvest restrictions. The new rules affect both the recreational and commercial harvest of oysters.
Congressman Michael C. Burgess, M.D. (R-TX), Chairman of the House Energy and Commerce Subcommittee on Commerce, Manufacturing, and Trade, issued the following statement in response to the release of the Independence at Home program's year 2 performance data by the Centers for Medicare & Medicaid Services (CMS) today
Texas home sales and prices experienced strong gains in the second quarter of 2016, according to the 2016-Q2 Texas Quarterly Housing Report released today by the Texas Association of REALTORS
Congressman Al Green (TX-09) honoring a request from Pastor Kirbyjon Caldwell has agreed to join Houston Police Department Executive Assistant Chief Michael Dirden, Harris County District Attorney Devon Anderson, and others in a dialogue about police-community relations on July 16, 2016, at the Kingdom Builders' Center