HOUSTON, TX – July 9, 2009 – (RealEstateRama) – Gov. Rick Perry today ceremonially signed House bills (HB) 8 and 3613, which will help slow the pace of increasing property appraisals, provide additional oversight for the appraisal process, and grant a total exemption for the homes of veterans who are disabled due to their service for our country.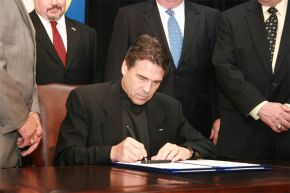 "This session, I called on members of the Legislature to continue efforts to reform our appraisal system so that Texas citizens won't continue getting stuck with higher taxes," Gov. Perry said. "I believe these two bills move Texas forward in this area by attempting to slow the steady upward pressure on appraisals across the state, but there is still more work to be done to further protect Texas homeowners against increasing appraisals."
HB 8 allows the comptroller to conduct the Property Value Study (PVS) every other year, beginning in 2010. This change will help reduce the pressure on Central Appraisal Districts (CAD) to increase appraisals each year to avoid falling outside the bounds of the PVS. The PVS will still be conducted annually for school districts that fail the study until the district passes.
Additionally, under HB 8 CADs will be required to undergo a review of appraisal standards every two years, giving the comptroller increased oversight over the appraisal process and ensuring that CADs follow standard appraisal procedures and practices.
"I am pleased the governor is signing this legislation, as it represents the joint efforts of the comptroller, Sen. Williams and myself to bring accountability and uniformity to appraisal districts," Rep. John Otto said.
"My goal was to provide property taxpayers with the most significant taxpayer appraisal reform protections in 30 years," Sen. Tommy Williams said.
HB 3613 ensures that a home's market value is based only on the property's use as a home, protecting homeowners from drastically increasing values due to appraisals based on another potential use. The bill also grants veterans with a service related disability that are either classified as 100 percent disabled or as individually unemployable by the U.S. Department of Veterans Affairs a homestead exemption for the total value of their home.
For more information about the 81st Legislative Session, please visit http://www.governor.state.tx.us or http://www.legis.state.tx.us/Home.aspx